HY-4408-V0-A 4x8 HDMI Switch Splitter
HY-4408-V0-A 4x8 Hdmi Switch Splitter FEATURES
1. Supports 1 MHL and 3 HDMI input ports with dual mode capabi l ity.
2. Supports 8 HDMI output port.
3. Compl iant with MHL2.0 and HDMI 1.4b specification.
4. Supports screen preview.
5. Supports fast switching.
6. Supports deep color 30bit,36bit.
7. Supports Blue-Ray 24/50/60fps/HD-DVD/xvYCC.
8. Digital audio format,as DTS-HD/Dolby-trueHD/LPCM7.1/DTS/Dolby-AC3/DSD.
9. Supports signal retiming.
10. Supports Equal izer TMDS Output:25MHz–340MHz TMDS clock.
11. Supports up to 340 MHZ TMDS clock rate(4Kx2K)for HDMI input.
12. Supports EDID RAM.
13. Supports 1080P input up to 15 metres AWG26 HDMI standard cable length,output up to 20
metres AWG26 cable length.
14. Inputs can be switched with the IR remote control,also can be control led by button.
15. Extend the transmission distance and improve transmission signal.
16. Compatible with DVI through a HDMI to DVI adapter.
17. Supports hot plug-and-play.
18. LED indicate signal and power mode.
19. No loss of qual ity.
20. Instal ls in minutes.


HY-4408-V0-A 4x8 HDMI Switch Splitter SPECIFICATIONS:
Maximum Single Link Range..............................................................................24/25/30fps/4Kx2K
HDMI resolution...............................................24/50/60fps/480i/480p/576i/576p/720p/1080i/1080p
Support video color format....................................................................24bit/deep color 30bit, 36bit
Vertical Frequency Range...................................................................1080p@60Hz; 4Kx2K@25Hz
Support audio format-................................DTS-HD/Dolby-trueHD/LPCM7.1/DTS/Dolby- AC3/DSD
Max bandwidth.................................................................................................................340MHz
Max band rate.......-......................................................................................................10.2Gbps
Input/ Output TMDS signal ........................................................................0. 5~ 1. 5Volts p- p( TTL)
Input/ Output DDC signal .....................................................................................5Volts p- p ( TTL)
1080P Input cable distance........................................................≤15m AWG26 HDMI standard cable
1080P Output cable distance......................................................≤20m AWG26 HDMI standard cable
4KX2K Input cable distance........................................................≤10m AWG24 HDMI standard cable
4KX2K Output cable distance.................................................... ≤15m AWG24 HDMI standard cable
Max working current..............................................................................................................2.5A
Operating Temperaturer............................................................................................(-15 to +55℃)
Operating Humidity range................................................................5 to 90% RH(No Condensation)
Dimension( L x W x H) .........................................................................................275x157x25(mm)
Weight..........................................................................................................................................................924g

CE FCC UL RoHs
HY-4408-V0-A 4x8 HDMI Switch Splitter Packaging contents :
1. HDMI 4×8 Unit x1
2. DC 5V Power Adapter x1
3. Remote control ler x1
4. User Manual x1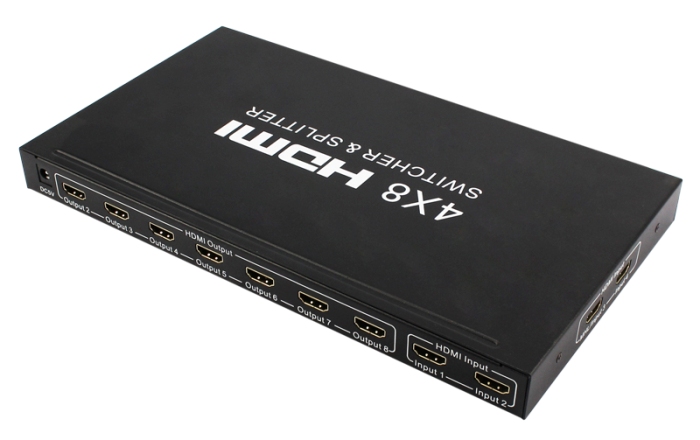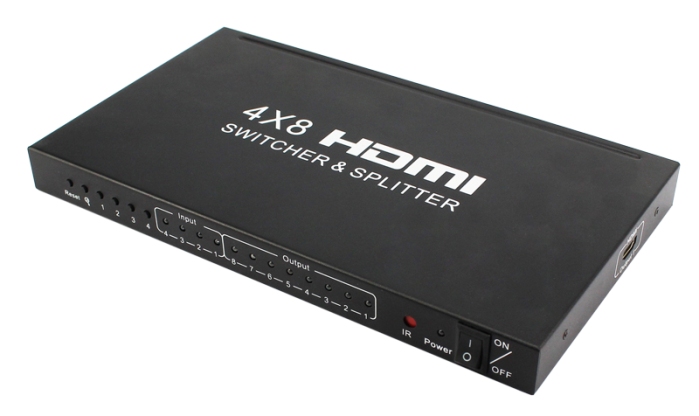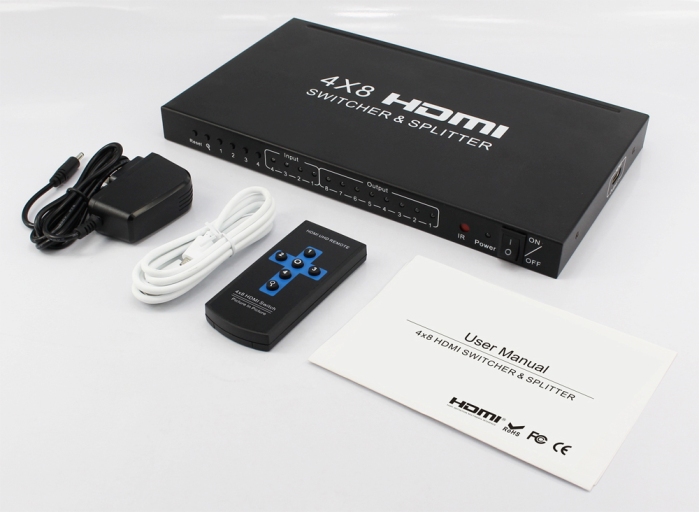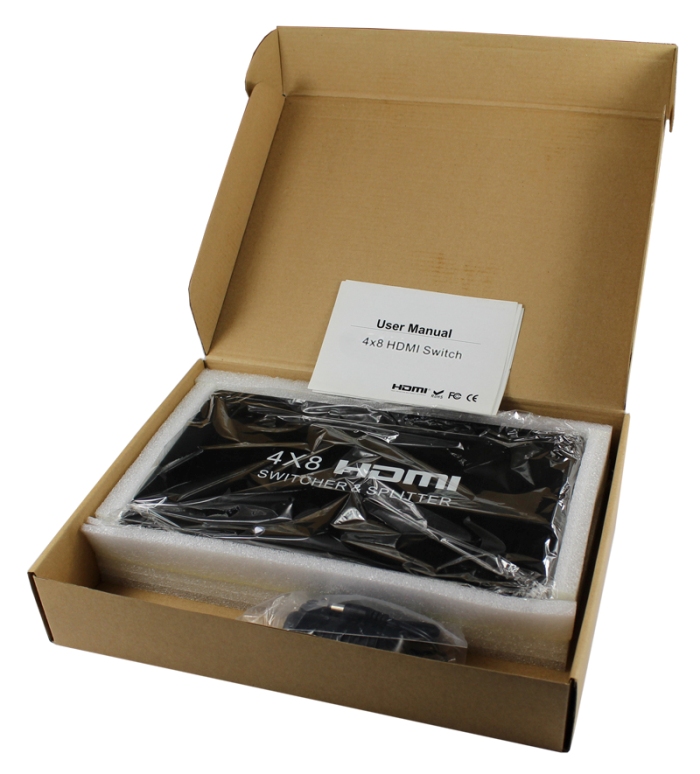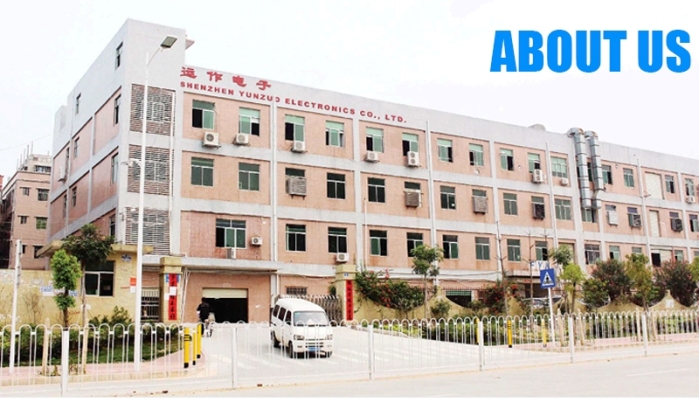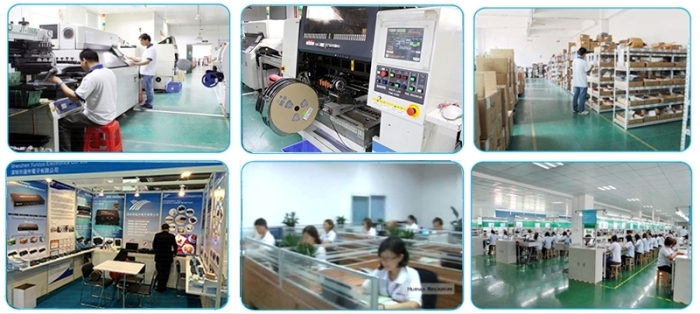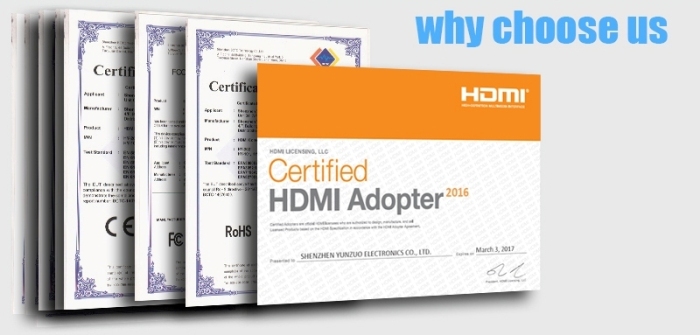 Product Categories : HDMI Matrix Switch