Introduction:
The 4x4 HDMI Matrix Switcher allows to access to multiple HDMI sources. It allows 4 HDMI devices to be switched easily from 1 to 4 compatible monitor or projector through HDMI. The Product supports the maximum video resolutions up to1080p. It also supports EDID RAM. The Product can also be placed at the end of a long HDMI cable to regenerate the HDMI signal. It mainly uses in HD-DVD player, TiVo sistem, HT PCs, set-top box and monitor connected with HDMI ports ect,. Any signal source can be selected at any time by the infrared remote control. The HDMI matrix switcher is with real HDMI 1.3 standard.
4x4 HDMI Matrix Switcher Features:
The 4x4 HDMI Matrix Switcher has many features, excellent performance.
1. Allow any connected HDMI display to receive signal source at any time.
2. Allow any signal source display on multi-displays.
3. Matrix input or output can be connected by HDMI or DVI to HDMI cable.
4. Each of the monitor's input can be switched through infrared remote control.
5. Support HDMI 1.3b.
6.Supports the maximum video resolutions up to1080p.
7. Support 225MHz/2.25Gbps per channel(all channel 6.75Gbps)bandwidth.
8. Support 12bit per channel(all channel 36bit) deep color.
9. Support HDCP.
10. Support uncompressed audio, For example,LPCM, DTS numbers, Dolby numbers(including DTS HD and Dolby ture HD)
11. Support 3D, video input 8 bit deep color up to 1080p, bandwidth up to 225MHz.
Specifications:
Maximum Single Link Range..........................24/25/30fps
HDMI version...............................................HDMI 1.3
HDMI resolution......24/50/60fps/480i/480p/576i/576p/720p/1080i/1080p
Supports video color format.............24bit/deep color 30bit, 36bit
Vertical Frequency Range............1080p@60Hz;
Supports audio format......DTS-HD/Dolby-trueHD/LPCM7.1
Max bandwidth..............................................................225MHz
Max band rate.............................................................6.75Gbps
Input/Output TMDS signal ..................0. 5~ 1. 5Volts p- p( TTL)
Input/Output DDC signal .................................5Volts p- p ( TTL)
Operating Temperature..................................0 to + 70℃
Operating Humidity range........10 to 85% RH ( amorphous)
Dimension ( L x W x H).......................................440x200x55mm
Weight..............................................................................210g
Certifications: CE FCC RoHS
Package Content:
1. Matrix Switcher x1
2. Remote controller x 1
3. User Manual x 1
4. DC 12V Power Adapter x1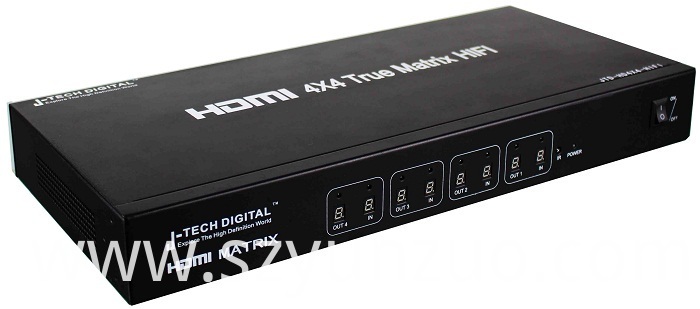 Product Categories : HDMI Matrix Switch